Liposomal bupivacaine (Exparel) is a longer acting form of traditional bupivacaine that delivers the drug by means of a multivesicular liposomal system.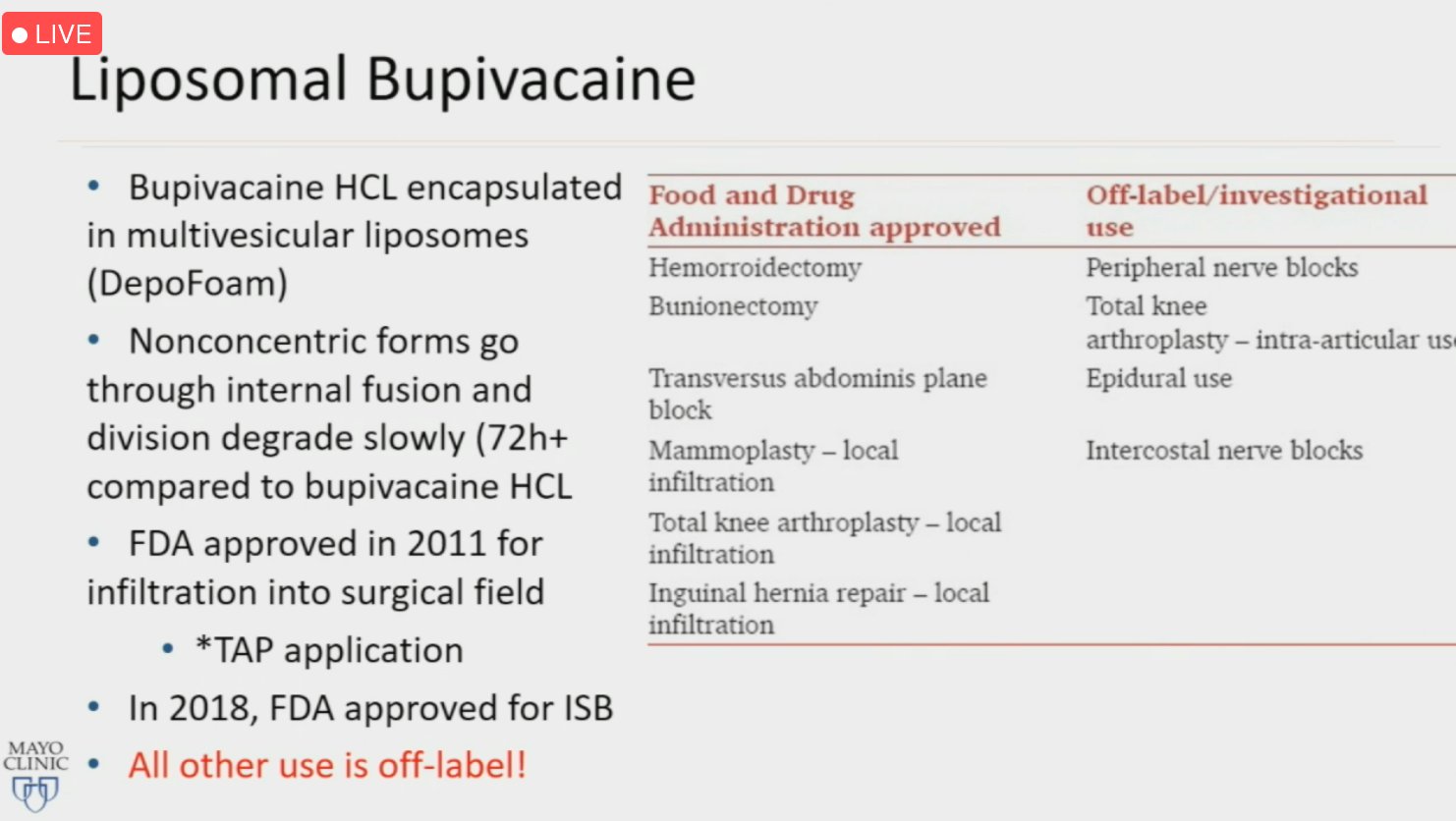 Max Dose: 266 mg or 4mg/kg (6yo-17yo). Interscalene NB max dose (adults) =133mg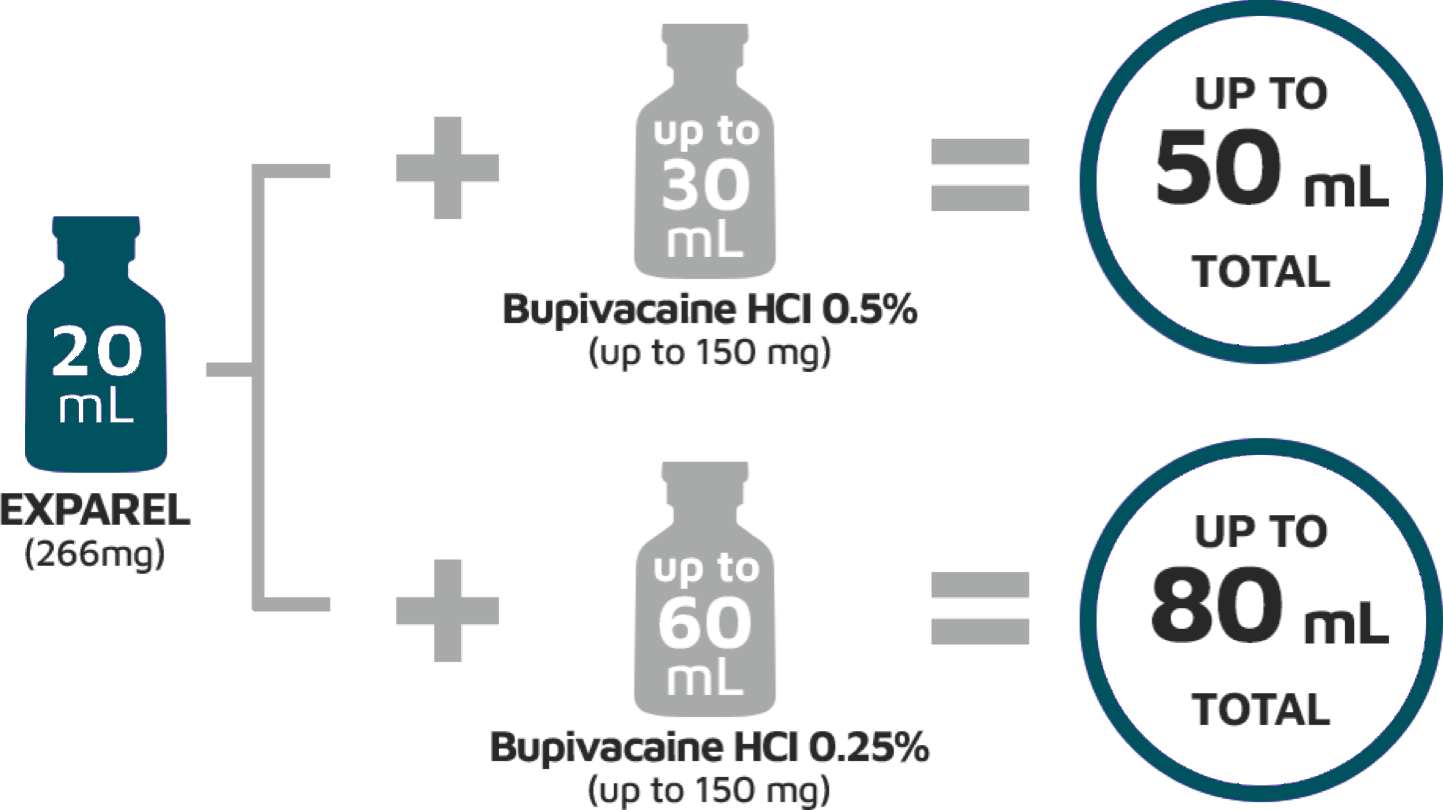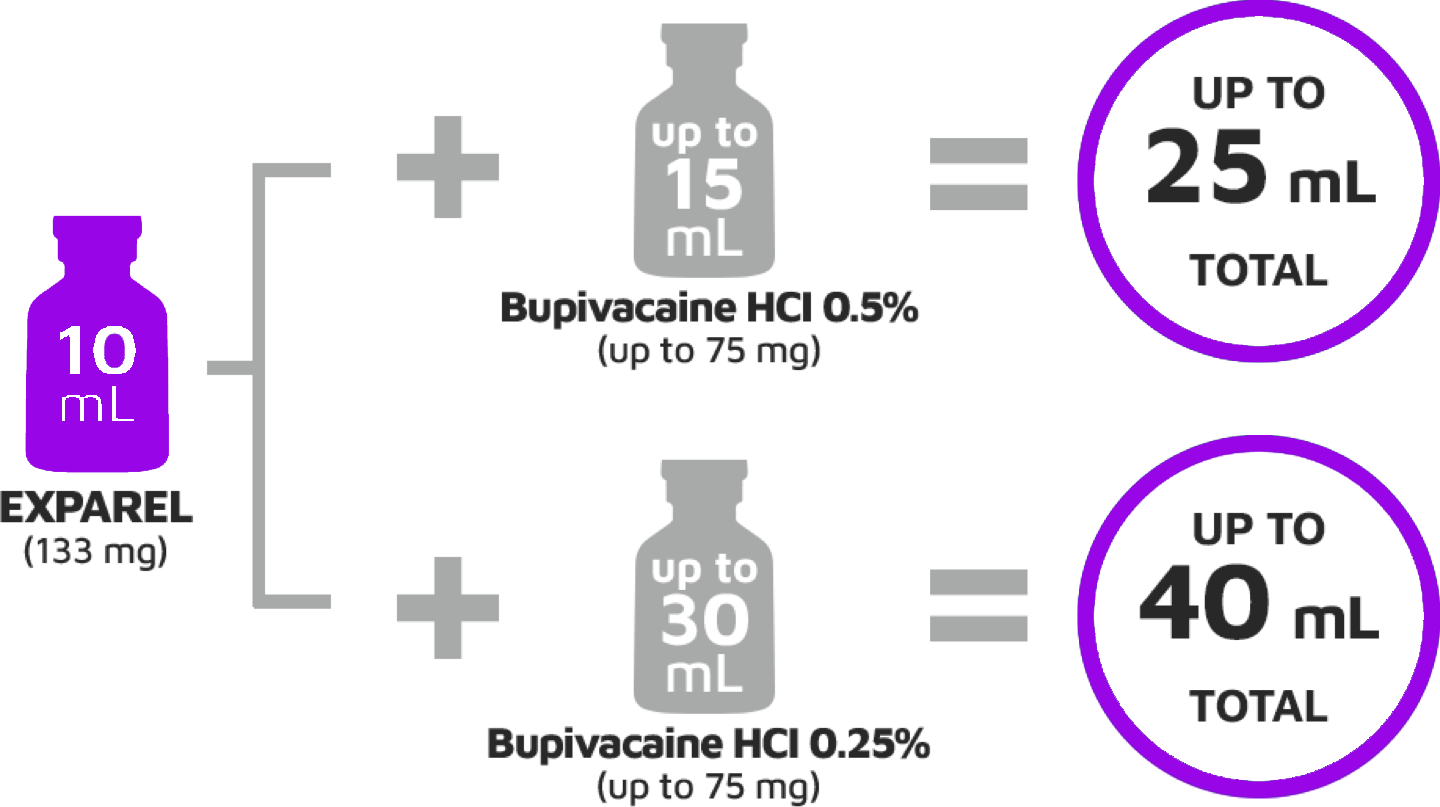 Exparel dosing company info: Pocket Dosing Guide , Billing Guide
Liposomal bupivacaine: a review of a new bupivacaine formulation. J Pain Res. 2012; 5: 257–264.
Emerging roles of liposomal bupivacaine in anesthesia practice. J Anaesthesiol Clin Pharmacol. 2017 Apr-Jun; 33(2): 151–156.
Liposomal bupivacaine peripheral nerve block for the management of postoperative pain. Cochrane Database Syst Rev. 2016 Aug 25;2016(8):CD011476.
Liposomal bupivacaine infiltration at the surgical site for the management of postoperative pain. Cochrane Database Syst Rev. 2017 Feb; 2017(2): CD011419.
Novel Local Anesthetics in Clinical Practice: Pharmacologic Considerations and Potential Roles for the Future. Anesth Pain Med. 2022 Feb; 12(1): e123112.
Cardiac/Thoracic
The role of liposomal bupivacaine in thoracic surgery. J Thorac Dis. 2019 May; 11(Suppl 9): S1163–S1168.
Intercostal nerve blockade for thoracic surgery with liposomal bupivacaine: the devil is in the details. J Thorac Dis. 2019 May; 11(Suppl 9): S1202–S1205.
VATs: Dilute liposomal bupivacaine (266 mg, 20 cc) mixed with 20 cc injectable saline. We use two syringes to save time (refill syringe between injections).
For planned thoracotomy, we add 60 cc injectable saline for wider injection.
The efficacy of this strategy requires attention to specific details, such as timing and technique of injection, dilution with saline, and injection of multiple interspaces (typically interspaces 3–10 when technically possible).
Inject EXPAREL slowly and deeply (generally 1-2 mL per injection) into soft tissues using a moving needle technique (ie, inject while withdrawing the needle)
Infiltrate above and below the fascia and into the subcutaneous tissue
Aspirate frequently to minimize the risk of intravascular injection
Use a 25-gauge or larger-bore needle to maintain the structural integrity of the liposomal particles
Inject frequently in small areas (1-1.5 cm apart) to ensure overlapping analgesic coverage
Liposomal Bupivacaine Versus Bupivacaine for Intercostal Nerve Blocks in Thoracic Surgery: A Retrospective Analysis. Pain Physician. 2020 Jun;23(3):E251-E258.
Intercostal Blocks with Liposomal Bupivacaine in Thoracic Surgery: A Retrospective Cohort Study. J Cardiothorac Vasc Anesth. 2021 May;35(5):1404-1409.
Is liposomal bupivacaine superior to standard bupivacaine for pain control following minimally invasive thoracic surgery? Interactive CardioVascular and Thoracic Surgery, Volume 31, Issue 2, August 2020, Pages 199–203, https://doi.org/10.1093/icvts/ivaa083
Paravertebral Nerve Block With Liposomal Bupivacaine for Pain Control Following Video-Assisted Thoracoscopic Surgery and Thoracotomy. J Surg Res. 2020 Feb;246:19-25.
Rib fractures case report: ESP block
---
Evaluation of an Enhanced Recovery After Surgery Protocol Including Parasternal Intercostal Nerve Block in Cardiac Surgery Requiring Sternotomy. Am Surg. 2021 Dec;87(10):1561-1564.
Ultrasound-guided Modified Parasternal Intercostal Nerve Block: Role of Preemptive Analgesic Adjunct for Mitigating Poststernotomy Pain. Anesth Essays Res. 2020 Apr-Jun; 14(2): 300–304.
Comparison of preincisional and postincisional parasternal intercostal block on postoperative pain in cardiac surgery. J Card Surg. 2020 Jul;35(7):1525-1530.
Ultrasound-guided parasternal intercostal nerve block for postoperative analgesia in mediastinal mass resection by median sternotomy: a randomized, double-blind, placebo-controlled trial. BMC Anesthesiol. 2021; 21: 98.
Pain Relief Following Sternotomy in Conventional Cardiac Surgery: A Review of Non Neuraxial Regional Nerve Blocks. Ann Card Anaesth. 2020 Apr-Jun; 23(2): 200–208.
A Novel Use of Liposomal Bupivacaine in Erector Spinae Plane Block for Pediatric Congenital Cardiac Surgery. Case Rep Anesthesiol. 2021; 2021: 5521136.
Breast/Gen Surg
Evaluating the Efficacy of Two Regional Pain Management Modalities in Autologous Breast Reconstruction. Plast Reconstr Surg Glob Open. 2022 Jan 19;10(1):e4010.
Perioperative Blocks for Decreasing Postoperative Narcotics in Breast Reconstruction. Anesth Pain Med. 2020 Oct; 10(5): e105686.
Opioid-sparing Strategies in Alloplastic Breast Reconstruction: A Systematic Review. Plast Reconstr Surg Glob Open. 2021 Nov 16;9(11):e3932.
Comparison of the efficacy of erector spinae plane block performed with different concentrations of bupivacaine on postoperative analgesia after mastectomy surgery: ramdomized, prospective, double blinded trial. BMC Anesthesiol. 2019; 19: 31.
---
Efficacy of liposomal bupivacaine versus bupivacaine in port site injections on postoperative pain within enhanced recovery after bariatric surgery program: a randomized clinical trial. Surg Obes Relat Dis. 2019 Sep;15(9):1554-1562.
The use of extended release bupivacaine with transversus abdominis plane and subcostal anterior quadratus lumborum catheters: A retrospective analysis of a novel technique. J Anaesthesiol Clin Pharmacol. 2020 Jan-Mar; 36(1): 110–114.
Ortho
Pain Control and Functional Milestones in Total Knee Arthroplasty: Liposomal Bupivacaine versus Femoral Nerve Block. Clin Orthop Relat Res. 2017 Jan;475(1):110-117.
OB
Transversus Abdominis Plane Block With Liposomal Bupivacaine for Pain After Cesarean Delivery in a Multicenter, Randomized, Double-Blind, Controlled Trial. Anesth Analg. 2020 Dec; 131(6): 1830–1839.